After the last water change on flower day 14/36. Carefully trimmed a little bit and also started to super top the tallest stem that's growing too tall.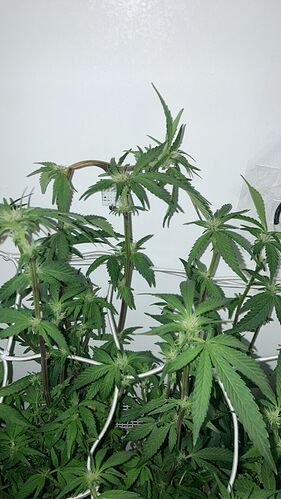 Had to cut off some lower, larfy parts of the plant that were blocking light. They were too short to be part of the canopy.
Some pictures from today flower day 23/50. Looking like it's taken nicely to having a trim and a dose of nutrients from the last water change two days ago. Using Bud Candy and Big Bud at this point in the grow in addition to nutrients from the actual Grobo.

Looks like a few more weeks of flowering at least. Hopefully she'll keep fattening up
Yeah, definitely planning at least 8-10 weeks of flower, depending on trichome maturation by that point.
Awesome plant you got there @Sterling_Maximus_Wil , looking great so far
Another 4 weeks and you'll be having some sick buds, I do believe so myself!
@pyromancy
Yeah, definitely hoping for a good yield, this is my first grow too. Just using Bud Candy and Big Bud from the Advanced nutrients line so far, waiting for the last couple weeks to add Overdrive.
The Macaron is already in day 4/10 of flush, but the last two water changes were just with ro water as well. So I guess it's technically flushed for a while now, still going to let the rest of the plant wait the last 6 days, I just cut this piece to try again. I've tried some from a cutting that I took and started drying about 5 days ago. It came out really nice actually and was already a good clean smoke, actually pretty heavy
. The taste was also pretty great and fruity/baked goodness even before any kind of curing process.
Harvested the Macaron today
, the smell and stickiness is engrained in my soul. All trim was kept and will be used to make some bubble hash. Decided not to do a wet weight, as not to disturb the buds and because the main stems are still mostly intact for hanging. I honestly wonder how much it will be, especially since almost all the buds are dense.

…
((

#Harvesting

)): (

#Congratulations

):

--

---
~ ~ ~ ~ ~ ~ ~ ~ ~ ~ ~ ~ ~ ~ ~ ~ ~ ~ ~ ~ ~ ~ ~ ~ ~ ~ ~ ~ ~ ~ ~ ~ ~ ~ ~ ~ ~ ~ ~ ~ ~ ~ ~ ~ ~ ~ ~ ~ ~ ~ ~ ~ ~
Started curing the buds, the still slightly wet weight was a little over 68g. Not bad for a first grow.
Ohhhhh yeah… I need some of that…mmmmmm
See what your waight is after drying and curing